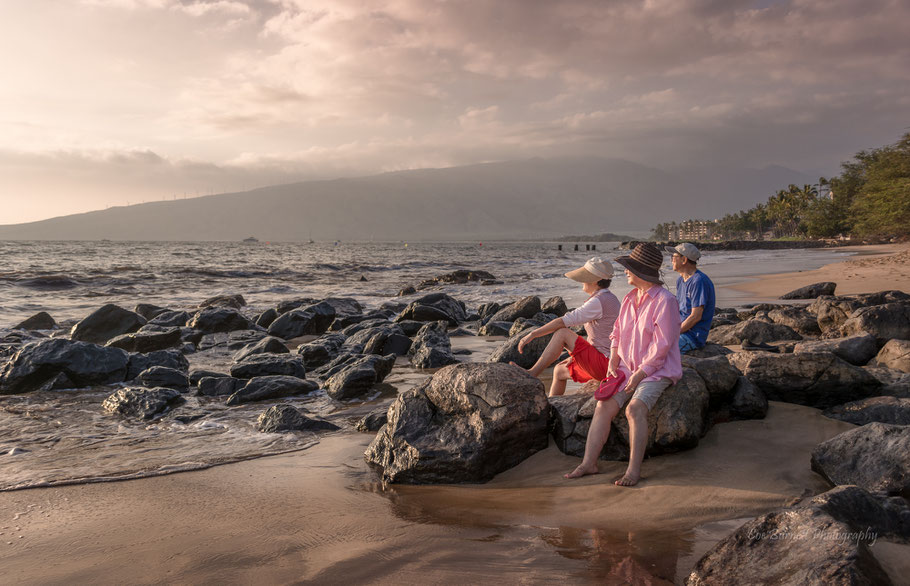 Click image to see detail.
---
 There are at least Four simple ingredients, in producing pleasing results.
1.) It starts with being confident with your choice of photographer, and his /her style, and abilities.
2.) Closely related to that, is being happy and enjoying the actual photo session. See examples below.
3.) The particular setting and light quality, has an effect on everybody involved, besides the final portrait. See above.
4.) Computer editing is where the time is spent to do touch-ups and image enhancements if needed.
So, as you look at some of the informal portrait sessions below, notice how these ingredients are blended.
My clients are happy and having fun! You can see it in their eyes.
Yes, the actual portrait session is a fun event to plan for!
 So, browse my different examples, and see if there are specific styles that suit your taste.
         Aloha, Coe
Feel free to contact me by phone or text with your ideas, and  we can discuss ways it can happen.
808-757-2665
---
---
---
Maui has a variety of interesting places to do a photoshoot. Kepaniwai Park stands out as one of the best places!
We can arrange to combine a Family session, and if she prefers, we can do a brief beauty session with Mom.
Plenty of nice areas for a picnic to boot!
Unfortunately, this area suffered a destructive flood recently. Certain areas may be open to the public.
click on images to see detail
---
 This is a Family photo shoot example. Simple arrangements were made to shoot in the front yard and the beach a block away. (Don't you wish!)
Our subjects were looking forward to having fun! And it all shows up in these images!
During these kinds of photo sessions, I try to take all sorts of combinations of family members, including single portraits of everyone.
This particular situation lent itself for a quick outfit change, to add to the variety.
Note; Just like pros, we had a fun time making sure each "snap", prompted a change of expression and pose!
Check it out!
Click images to see detail.
---
This newlywed couple planned ahead for a photo session during their honeymoon on Maui. 
Katie said she found my web-site, liked the style, and gave me a call. I am so happy she did!
Our subjects were so relaxed and natural, in many different background settings.
We had the time and convenience for an easy change of outfits too! 
In this case, all I had to do was make sure I was pushing the shutter button! 
Way to go Jeremy! He really got into the moment! 
Thus, Katie was happy and just so exquisite! Wow!
See for yourselves! The camera doesn't lie!
Awesome guys!
Click images to see detail.
---
 As with the above examples, This was a fun, happy event!
The light was golden and our Mommy was simply glowing!
Everybody felt free and relaxed, really enjoying the special time at a secluded spot around sunset.
A convenient change of outfits helped give depth to the shoot.
Different combinations of family members, and poses were in the mix. 
As usual, many images were captured, and these are a few of the best!
I'll always remember these very special moments, Shane, Kimberly, Madison, and "future" Austin! ALOHA!
Click images to see detail.
---
---